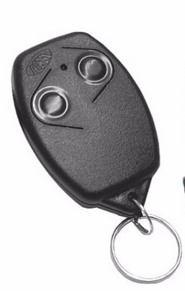 HOW TO SYNCHRONISE ROSSI ROLLING CODE REMOTE CONTROLS
ROSSI remote control synchronisation can only be performed directly on the receiver itself.
Synchronising the remote control directly on the receiver
1. Hold the button on the receiver. The red LED will remain lit.
2. Hold down the desired button on the JMA remote control until the LED light on the receiver goes out.
3. Release the button on the JMA remote control. The remote control has been synchronised.
4. Repeat the process for the other buttons.