BT MULTIUSER PRO, THE REMOTE CONTROL ON YOUR SMARTPHONE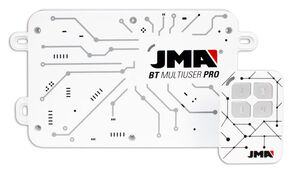 A REMOTE CONTROL IN YOUR PHONE, NOW FOR MORE THAN 100 USERS
The BT MULTIUSER PRO is the evolution of the JMA BT MULTIUSER system that can be used to open garage doors, gates and access points with a mobile phone.
The device uses Bluetooth to connect to the smartphone of a user, who can use the device easily with the JMARemotesUSER app.
The BT MULTIUSER PRO has the following new features.
- More than 100 users can have access to a single device. That makes it perfect for property owner communities and workplaces. It is also suitable for single family homes and tourist accommodations.
- Permanent or temporary invitations can be sent to other people.
- It has a new weather resistant (IP66) power supply.
THE REMOTE CONTROL ON YOUR SMARTPHONE
THE ROLLING CODE REMOTES THAT CAN COPY